Online live casino games don't come much easier than Dragon Tiger. This exciting card game was developed by the ever-reliable team at Evolution, and it is one of the most fun live casino titles we offer here at Mega Casino. The game manages to be both simple and innovative with its gameplay. Dragon Tiger has an incredibly simple set-up - players must choose whether they believe the dragon or tiger card is highest in order to win. This game is one of the most fast-paced and enjoyable titles we have in our live casino selection.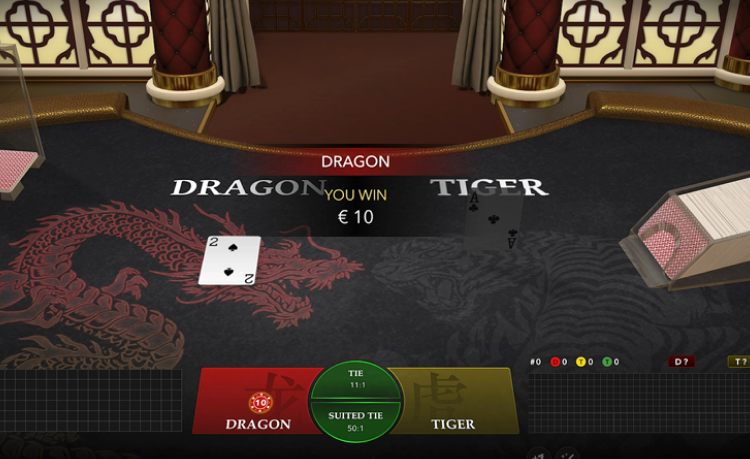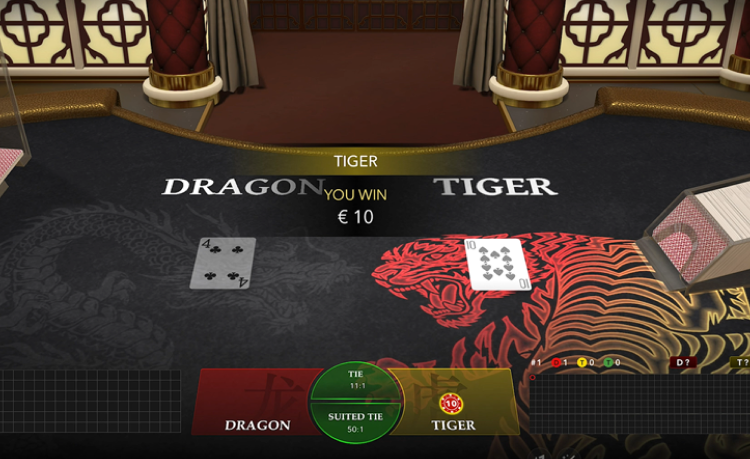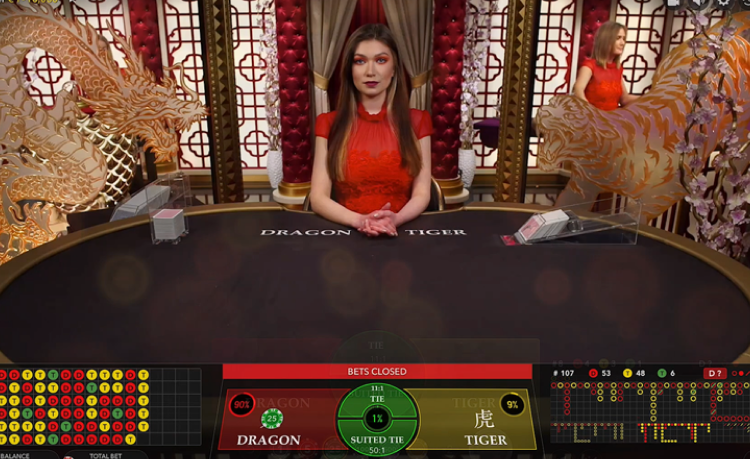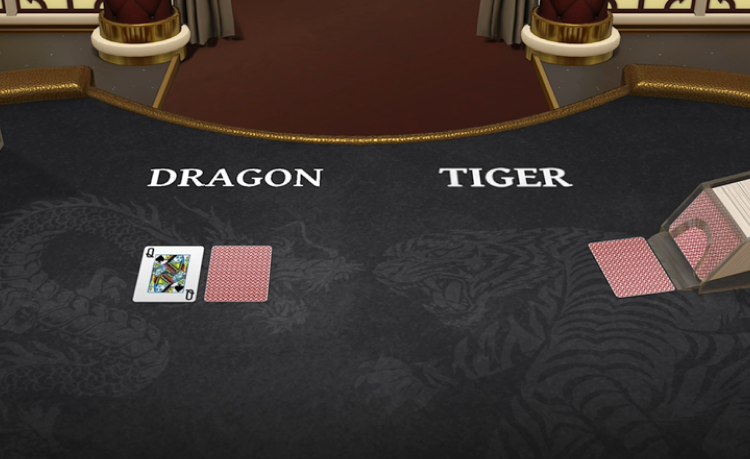 How To Play First Person Dragon Tiger Online
Dragon Tiger has wasted no time in establishing itself as one of the most popular live casino game sin the industry. Those who love playing baccarat are going to notice plenty of similarities between this and the popular card game. The game's beauty lies in its simplicity, which is one of the reasons it has become one of Evolution's most popular titles.
A dealer takes two cards from a choice of eight decks. One card is placed in the area designated Dragon and another is placed in the Tiger zone. Players bet on which one will be highest. The game moves by at a break-neck speed, with each round taking just 25 second to complete. The cards are ranked the same as they would be in poker with the exception of ace which is always low.
Dragon Tiger Side Bets
Tie Bet
A tie bet is fairly self-explanatory. This is a side bet that allows the player to bet on the outcome of the round being a draw. This is when the value of the cards in both the Dragon and the Tiger spots on the table are equal. This does offer a higher payout than placing a standard dragon or tiger bet, but the chances of it happening are much slimmer.
Suited Tie Bet
A suited tie bet does as it says on the tin. It is exactly the same as a tie bet, except not only do the values of the card match, but also the suit of the cards as well. This is the most unlikely outcome and as such, offers the highest payout.
Payouts
There are four different outcomes you can bet on when playing Dragon Tiger live, each of which has a different payout. This is worth remembering when choosing what type of bet you are going to play. The payouts for the four types of bet are as follows:
| BET | PAYS |
| --- | --- |
| Dragon | 1 to 1 |
| Tiger | 1 to 1 |
| Tie | 11 to 1 |
| Suited Tie | 50 to 1 |
Dragon Tiger by Evolution Gaming
When most people think of live casino gaming, Evolution is going to be the first name that springs to mind, and with good reason. The company was founded in 2006 and has spent every day since then working to establish itself as the king of live casino gaming. Over the years, they have picked up various industry awards and continue to be the measuring stick for live casino gaming in the industry.
Here at Mega Casino, we are proud to work alongside such an innovative gaming developer. As well as exciting titles like Dragon Tiger, we offer a great selection of titles developed by the company, including both table games and some awesome live TV show titles as well.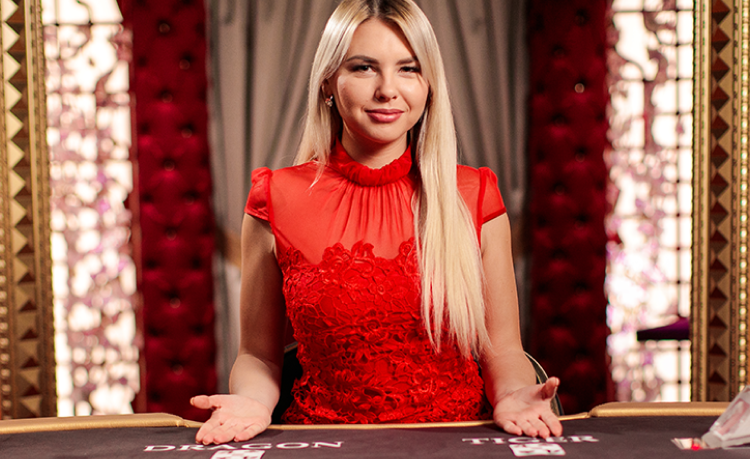 Dragon Tiger FAQ
What is the RTP of Dragon Tiger?
The game has an optimal RTP of 96.27% when betting on either the dragon or tiger cards. When betting on a tie, the RTP is lower at 89.64%, and 86.02% when betting on a suit tie.
Can I play Dragon Tiger on my mobile?
Yes. Dragon Tiger has been optimised to work on a range of different devices. Thanks to the easy to use interface offered by the game, players can enjoy it regardless of what size screen the game is being played on.
More Live Casino Games at Mega Casino
If you enjoyed playing Dragon Tiger, then don't let your live casino adventure stop there. Here at Mega Casino, we offer a range of exciting live casino games for our players. This includes exciting TV show games like Dream Catcher and Monopoly Live, as well as classic card and table games like baccarat, roulette online, and blackjack. Head over to our casino game section to find out more about what we have to offer.